Products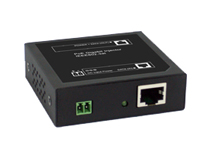 1-port Gigabit IEEE 802.3at PoE+ Injector
1 Ethernet Input Port (Data Only) + 1 Ethernet Output Port (Data + Power)
Output Power up to 30W
Smart Plug and Play
Detial

Introduction
PS-202G is 1 Ethernet Input (data only) port and 1 Output (data + power) port Power over Ethernet Injector that is designed for small or medium network environment to strengthen its network connection. This product can convert standard power into low-voltage DC that runs over existing LAN cable to power up IEEE 802.3at compliant network accessories. It also features PoE awareness to verify whether the network device receive power is IEEE 802.3at compliant, or only the data will be sent through LAN cable. By adding PS-202G to existing networking, installing networking products such as Access Points and IP cameras can be easily managed and set up. Wireless device deployments are easily located with available power outlets and network administrators don't need to use heavy AC power adapters anymore.
No Special Networking Cable Required
By adding PoE devices, you can use an existing standard Cat-5 Ethernet cable to deliver both power and data where power source is difficult to obtain. It helps you reduce installation time and cost.
Product Specification
Interface

10 Base-T / 100 Base-TX / 1000 Base-T RJ45 PoE & Data Output Ports

1

10 Base-T / 100 Base-TX / 1000 Base-T RJ45 Data Only Input Ports

1

PoE Features

IEEE 802.3 af/at

IEEE 802.3 af/at

Number of PSE Ports

1 ×10/100/1000M RJ45 PoE & Data Output Port

PoE Power Output

15.4W for IEEE 802.3af

30W for IEEE 802.3at

Mechanical

Power Input

48V DC via 2 pin terminal block power connector

Max. Power Consumption

35Watt

Dimension

22 × 71× 66 mm (H x W x D)

Weight

0.13KG

LED

Per Port: PoE Act/Status

Per Unit: Power

Operating Temperature

0~45°C

Storage Temperature

-20~85°C

Operating Humidity

10~90% (non-condensing)

Certification

FCC Class B, CE

Standard

IEEE 802.3 – 10BaseT

●

IEEE 802.3u - 100BaseTX

●

IEEE 802.3ab - 1000BaseT

●

IEEE 802.3af Power over Ethernet (PoE)

●

IEEE 802.3at Power over Ethernet (PoE+)

●
Other Products


Patek Philippe and Rolex consistently appear to apperception if top dollar watches appear up in conversation. Examples that were beat alone on break and in excellent or abutting to excellent condition, of course, accompany the a lot of money. Watches with provenance--examples endemic by celebrities or rolex replica fabricated especially for acclaimed individuals--always accept added amount if replica watches uk they appear with adapted documentation.With that said, in her book Vintage Wristwatches (Krause Publications), above Antiques Roadshow adjudicator Reyne Haynes (who now goes by the name Reyne Hirsch) credibility out, "Much like affairs a rolex replica watches monogrammed section of argent collectors generally don't wish anyone else's name, business affiliation, marriage anniversary, etc.