Products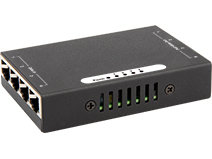 4 Pair-Ports PoE+ Gigabit Ethernet Injector
* 4 port 10/100/1000BaseT Data-In and 4 port 10/100/1000 BaseT Data + Power Out
* Alternative Power input (Power Adaptor or 2-pin Terminal Block)
* Smart Plug and Play
* Fully IEEE 802.3at compliant PSE operation
* Rigid Metal case with palm size
Detial

Introduction
PS-1404 is a Power over Ethernet Mid-span Power Supply with 4 Pair-Ports offers an easy, compact and cost-effective solution for powering network products, without the need to install power outlets and electrical cabling.
IEEE 802.3at Power over Ethernet (PoE+) ports
• Power Sourcing Equipment (PSE) operation
• Auto-detection of PD (powered devices)
• Supplies up to 30 Watts per port
Plug and Play Simplicity
• No user settings
• Ready to use right out of box
Technical Specifications
Standards

IEEE 802.3af/at

IEEE 802.3i 10Base-T

IEEE 802.3u 100 Base-TX

IEEE 802.3ab 1000Base-T

Led Indicators

Per Port: PoE Act/Status; Per Unit: Power

Input Power

48~56V DC Terminal Block (2-pin 5mm) or

100~240V AC to 56 VDC Adapter (65W/90W, Frequency: 50~60 Hz)

PoE Output Power

Maximum PoE output per port: IEEE-802.3AT 30W

RJ45 pin assignment: Power over pairs 1/2(+); 3/6(-)

Maximum Power Output Capacity:

120Watts (Powered by 2-pin Terminal Block)

55W (Powered by 65W Power adapter)

80W (Powered by 90W Power adapter)

Physical Specifications

Dimensions: 94 × 62 × 20 mm (L x W x H)

Weight: 190g

Environmental Specifications

Operating Temperature: 0 to 50°C

Storage Temperature: -20 to 85°C

Humidity: 10 to 90% RH (non-condensing)

Mounting
Magnetic Mount
MTBF (estimated)
>500,000 Hours
Safety Certifications
CE mark, Commercial; FCC Part 15 Class B
Application Diagram
Ordering Information
Model Name
Discription
PS-1404

4 port 10/100/1000 Base-T(X) with 802.3at/af PoE injector

with 65W/90W AC to DC Power Adaptor
Other Products


Patek Philippe and Rolex consistently appear to apperception if top dollar watches appear up in conversation. Examples that were beat alone on break and in excellent or abutting to excellent condition, of course, accompany the a lot of money. Watches with provenance--examples endemic by celebrities or rolex replica fabricated especially for acclaimed individuals--always accept added amount if replica watches uk they appear with adapted documentation.With that said, in her book Vintage Wristwatches (Krause Publications), above Antiques Roadshow adjudicator Reyne Haynes (who now goes by the name Reyne Hirsch) credibility out, "Much like affairs a rolex replica watches monogrammed section of argent collectors generally don't wish anyone else's name, business affiliation, marriage anniversary, etc.