Products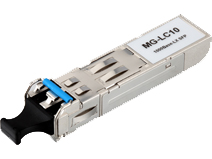 1GBASE 1310 nm Single-mode Transceiver (10KM)
Features
Compliant with Fiber Channel 100-M5-SN-I and 100-M6-SN-I standard
Compliant with IEEE802.3z Gigabit Ethernet standard
Industry standard small form pluggable (SFP) package
Duplex LC connector
Differential LVPECL inputs and outputs
Single power supply 3.3V
TTL signal detect indicator
Hot Pluggable
Class 1 laser product complies with EN 60825-1
Detial

Application
Distributed multi-processing
Switch to switch interface
High speed I/O for file server
Bus extension application
Channel extender, data storage
Product Specification
Absolute Maximum Ratings
| | | | | |
| --- | --- | --- | --- | --- |
| | | | | |
| Storage Temperature | TS | -40 | 75 | °C |
| Supply Voltage | Vcc | -0.5 | 4.0 | V |
| Input Voltage | VIN | -0.5 | Vcc | V |
| Output Current | Io | --- | 50 | mA |
| Operating Current | IOP | --- | 400 | mA |
Recommended Operating Conditions
Case Operating Temperature

TC

0

70

°C

Vcc

3.1

3.5

V

ITX + IRX

---

250

mA
Transmitter Electro-optical Characteristics
Vcc = 3.1 V to 3.5 V, TC = 0°C to 70°C
Output Optical Power

9/125 mm fiber

Pout

-9.5

---

-3

dBm

Average

Extinction Ratio

ER

9

---

---

dB

Center Wavelength

lC

1270

1310

1355

nm

Spectral Width (RMS)

Dl

---

---

2.5

nm

Rise/Fall Time, (20-80%)

Tr, f

---

---

260

ps

Relative Intensity Noise

RIN

---

---

-120

dB/Hz

TJ

---

---

227

ps

Compliant with IEEE802.3z

Max. Pout TX-DISABLE Asserted

POFF

---

---

-45

dBm

Differential Input Voltage

VDIFF

0.4

---

2.0

V
Receiver Electro-optical Characteristics
Vcc = 3.1 V to 3.5 V, TC = 0°C to 70°C
Optical Input Power-maximum

PIN

-3

---

---

dBm

BER < 10-12

Optical Input Power-minimum

(Sensitivity)

PIN

---

---

-20

dBm

BER < 10-12

Operating Center Wavelength

lC

1260

---

1610

nm

Optical Return Loss

ORL

12

---

dB

Signal Detect-Asserted

PA

---

---

-20

dBm

Signal Detect-Deasserted

PD

-35

---

---

dBm

Stressed Receiver Sensitivity

---

---

-14.4

dBm

Note 1, 2

Differential Output Voltage

VDIFF

0.5

---

1.2

V

T r, f

---

---

0.35

ns

RX_LOSL

0

---

0.5

V

RX_LOSH

2.4

---

VCC

V
Note 1: Measured with conformance test signal at TP3 for BER = 10-12 at the eye center.
Note 2: Measured with a transmit signal having a 9 dB extinction ratio. If another extinction ratio is used, the Stressed receiver sensitivity should be corrected for the extinction ratio penalty.
Other Products


Patek Philippe and Rolex consistently appear to apperception if top dollar watches appear up in conversation. Examples that were beat alone on break and in excellent or abutting to excellent condition, of course, accompany the a lot of money. Watches with provenance--examples endemic by celebrities or rolex replica fabricated especially for acclaimed individuals--always accept added amount if replica watches uk they appear with adapted documentation.With that said, in her book Vintage Wristwatches (Krause Publications), above Antiques Roadshow adjudicator Reyne Haynes (who now goes by the name Reyne Hirsch) credibility out, "Much like affairs a rolex replica watches monogrammed section of argent collectors generally don't wish anyone else's name, business affiliation, marriage anniversary, etc.